NEWPORT RESIDENCES 铂海峰 (FORMER FUJI XEROX TOWERS)
TARGET SHOWFLAT PREVIEW: 2H 2023
— A HOME, AN ICON, AN ADDRESS FOR ALL TIME —
A FREEHOLD MIXED-USE INTEGRATED DEVELOPMENT IN THE HEART OF CBD
Last Updated: 3rd December 2023
Latest Unit Sold: Sales Launching Soon | See the Balance Units Chart
In view of Covid-19 Safe Management Measures, Newport Residences Showflat Viewing is strictly By Appointment Basis with at least 1 DAY in Advance Notice.
TARGET PREVIEW IN Q2 2023! SHOWFLAT VIEWING IS STRICTLY BY APPOINTMENT BASIS WITH AT LEAST 1 DAY IN ADVANCE NOTICE!

REGISTER TO ENJOY DEVELOPER PRICE! NO COMMISSION PAYABLE!

Book An Appointment To View Newport Residences Showflat
Newport Residences Developers
City Developments Limited (CDL) has proposed in July 2020, its plan to demolish the former Fuji Xerox Towers and redevelop the site into a 46-storey mixed-use integrated development. The new development will comprise of 40% of retail & office, 25% of serviced apartments (197 rooms) and 35% of residential high-rise apartment (246 units). This is part of CDL's asset rejuvenation and redevelopment plans to enhance and unlock its current asset's potential value. CDL will ride on the Urban Redevelopment Authority (URA) Central Business District Incentive (CBDI) Scheme to uplift the gross floor area (GFA) by 25% to an estimation of 655,000 sqft. The aim is to bring a new lease of life back into the city urban area and create a more vibrant place to work, play and live.
The new building will be named as Newport Plaza (retail & office), Newport Tower (serviced apartments) and Newport Residences (residential high-rise apartments). The Newport development will be a rare freehold mixed-use integrated development in prime District 2 of the Core Central Region (CCR).
CDL is a Singapore listed company with a diverse network in 29 countries across 104 locations. The group's global portfolio includes retail malls, offices, serviced apartments, hotels, residential apartments and integrated developments. To date, the group has developed more than 48,000 apartments. The group owns a total of approximately 23 million sq ft of GFA in all its real estate assets. The group also owns a land bank with a total area of 3.3 million sq ft.
Over the years, CDL has attained multiple awards for several impressive green buildings. Additionally, CDL is the only leading developer who has received the Building and Construction Authority (BCA) most honourable award – Quality Excellence Award (Champion Platinum), for 9 consecutive years.
CDL has an outstanding track record of more than 55 years in property development. Some of the luxury developments include CanningHill Piers, South Beach Residences, Boulevard 88 and Nouvel 18. Newport Residences will be another CDL's collection of iconic landmark that will shape the city skyline.
Newport Residences will occupy the higher floors in the Newport development. It will comprise of 1 to 4 Bedrooms and Penthouses. There will be a total of 246 residential units.
With strong product attributes, Newport Residences pricing will be attractive to both home owners and investors. For those who are looking for a freehold mixed-use integrated development that is situated in the heart of CBD, you should not miss this Newport development.
Newport Residences Location Map
Newport Residences is located at 80 Anson Road, one of the prime areas in District 2 of Singapore Core Central Region (CCR). It is in close proximity to the existing Tanjong Pagar MRT station (EW15) and the future Prince Edward MRT station (CC32), which will open in 2026. With 2 MRT stations nearby, future residents will be able to commute to different parts of Singapore conveniently.
Apart from its centralised location, Newport Residences is going to be a brand new exciting and vibrant place to work, play & live. With the introduction of the CBDI Scheme, as announced by URA in 2019, the city centre will be rejuvenated into a much more appealing and livelier place with a variety of social and community amenities from day till night.
The CBDI Scheme will permit owners to convert their existing office developments that are over 20 years old, into mixed-use developments with an increase in gross floor area (GFA) by 25%. This means that Newport Development will have a new GFA of approximately 655,000 sqft.
Newport Residences is within easy access to major expressways such as the Ayer Rajah Expressway (AYE) and Marina Coastal Expressway (MCE). It is also well-connected to major roads such as Tanjong Pagar Road, Anson Road and Keppel Road. Henceforth, future residents can enjoy great connectivity to other parts of Singapore.
There are no lack of amenities within the vicinity of Newport Residences. Besides the retail shops at Newport Plaza, the development is just a stone throw away from Tanjong Pagar Plaza, 100AM, Icon Village, Guoco Tower, International Plaza. Future residents can find wet market, food centre, supermarkets, bakeries, clinics, learning centres, beauty parlours, restaurants at these malls. Future residents will also be spoiled for choice by the wide variety of supermarkets, like, NTUC Fairprice, Cold Storage and Don Don Donki. There are also a wide range of cafes and restaurants at Duxton Road and along Tanjong Pagar Road.
For parents who are planning for their children's education, Newport Residences is near to schools such as Cantonment Primary School and CHIJ Kellock School.
To explore more about the surrounding amenities, you may refer to Newport Residences location map here.
Newport Residences Show Flat
Covid-19 community Safe Management Measures have eased and most showflats are opened for viewings. Nevertheless, Newport Residences Developer continues to be vigilant to ensure the safety of all visitors.  To prevent the spread of Covid-19, the number of daily visitors per viewing slot are limited. It is advisable for all visitors to book advance showflat viewing appointment before coming to Newport Residences showflat. All viewings are strictly by appointment basis with minimum 1 day advance notice.
If you are keen to view Newport Residences showflat, you may Register an Appointment online or call our showflat hotline at +65 6100 1310. Please be informed that our showflat may be closed at time for private events.
Once you have registered for an appointment, a project consultant will be appointed to contact you within the same working day. Our certified project consultant will facilitate you through all matters related to Newport Residences. Rest assured that you will get to enjoy Best Developer Price when booking a unit and you do not have to pay any service fees.
Once Newport Residences opens for viewing, there will be 2 weeks of VVIP showflat preview before sales launch day. During the preview period, you may register your interest to book a unit via Online or Call our appointed project consultant who will guide you through the sales process.  All balance units after our VVIP preview sales will be sold based on first come first serve basis. You are advised to check our units availability by referring to Newport Residences Balance Units Chart. If you want to reserve a unit before visiting Newport Residences showflat, please call our showflat hotline at +65 6100 1310 or request for a call back via our Online Contact Form. Unit will only be reserved for 2 hours and is subjected to Developer's approval.
Newport Residences pricing is subjected to change without prior notice. Kindly check with our appointed project consultant on unit's availability and pricings. If you would like to receive update on Newport Residences Starbuy Promotion, do register your interest to receive update via our Online Contact Form.
See you soon at Newport Residences Showflat!
Freehold Modern Living with Integrated Convenience at the Heart of CBD
Newport Development is an upcoming brand new freehold mixed-used integrated development by City Developments Limited (CDL). CDL will redevelop its former Fuji Xerox Towers into the 46-storey Newport Development. It consists of Newport Plaza (retail shops & offices), Newport Towers (197 serviced apartments) and Newport Residences (246 residential units). Newport Development will stand 202 meters above the sea level, which makes it, one of the tallest architecture landmarks in the city centre.
Newport Residences offers various unit types that range from 1 to 4 Bedrooms and Penthouses. All residential units will be allocated on the higher floors of the development. This means that all units will get to enjoy unobstructed breathtaking views of the southern coastline, which will be transformed into the future Greater Southern Waterfront.
Newport Residences location is unique – this upcoming modern city skyscraper is surrounded by a mix of heritage with a wide array of amenities. Amidst the tall city buildings are the conservation shophouses, where well-known boutiques, galleries, cafes and Michelin-star restaurants are located.
In addition, Newport Residences is surrounded by famous local markets and hawker centres. For example, Tanjong Pagar Plaza Market & Hawker Centre, Maxwell Hawker Centre, Chinatown Complex Market & Hawker Centre and Amoy Street Hawker Centre.
Apart from markets and hawker centres, Newport Residences is in close proximity to malls like 100AM, Icon Village, Guoco Tower and International Plaza. Within these malls, you can find local supermarkets, such as, Cold Storage and NTUC Fairprice and the famous Japanese supermarket, Don Don Donki.
Newport Residences is near to 2 schools – Within 1 km is the Cantonment Primary School and within 2 km is the CHIJ Kellock School.
Newport Residences is sitting right next to Keppel Road, which connects to Ayer Rajah Expressway (AYE) and Marina Coastal Expressway (MCE) conveniently.
With new changes to the URA Masterplan 2019 – Central Area, Newport Residences will be a highly sought-after freehold mixed-use integrated development that offers a new vibrant place for work, play and live. The CBD areas will no longer be a dead town when it comes to nightfall.
Newport Residences will launch in Q2 2023. To register your interest, you may now Book an Appointment here and download a copy of Newport Residences Floor Plan and Newport Residences E-Brochure here.
Tanjong Pagar in the Future
Tanjong Pagar, situated within Singapore's Central Business District, has long been recognized for its historical importance. Urban Redevelopment Authority recently unveiled their masterplan to transform this district into a vibrant, sustainable, mixed-use district.
Tanjong Pagar URA's master plan aims to achieve a balanced mix of commercial, public and residential spaces while honoring its unique history and character. The plan envisions an area which is pedestrian-friendly and easily accessible via public transport; with green spaces providing amenities to meet residents and visitors' diverse needs.
The URA Master Plan includes several key initiatives, including improving public spaces. They plan on creating additional green spaces, parks and pedestrian walkways which provide outdoor recreation and activities – with the goal of creating an environment which is sustainable yet livable, where residents and visitors alike can connect with their community while taking pleasure in nature.
This plan seeks to develop vibrant residential and commercial spaces. Tanjong Pagar currently contains a lot of office space; with this master plan's creation of more businesses – both startups and established – this will create a dynamic and competitive environment which draws talent and investment alike.
URA's Plan includes new housing options such as public and affordable housing as well as private residences to create more balance in its communities, accommodating residents with differing backgrounds and income levels living together in harmony. In addition, the organization hopes to give families in the area greater opportunities by offering quality education, childcare services and family-friendly amenities.
Tanjong Pagar URA's master plan is an ambitious vision that will shape its future. By helping preserve Tanjong Pagar's character and heritage while providing opportunities for development, this will ensure Tanjong Pagar remains vibrant, liveable district for future generations.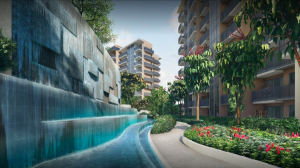 Unique Selling Points of Newport Residences
Newport Residences, a luxurious mixed-use integrated community, provides its residents with various distinct selling features. These include:
1. Newport Residences is situated in Tanjong Pagar, one of Singapore's premier locations. From here, residents have easy access to both Central Business District and an array of amenities nearby.
2. Luxury Living: Newport Residences provides residents with an exclusive living experience, featuring only 246 units available exclusively. Each unit is designed for maximum comfort and luxury – the ideal solution for anyone searching for an indulgent lifestyle.
3. Newport Residences units feature spacious living rooms and bedrooms for residents to comfortably entertain guests or unwind after a long day at work.
4. Enjoy Unobstructed Views – Newport Residences offers many units with breathtaking city skyline views right from their own living rooms, giving residents unparalleled vantages of this awe-inspiring cityscape. Enjoy these captivating vistas right in your own home!
5. Newport Residences units are furnished with only top quality materials and appliances to offer their residents an exclusive lifestyle experience.
6. Smart Home Features : Newport Residences units feature smart features, such as digital locks and intercom systems that enable residents to remotely manage their homes from smartphones.
7. Lifestyle Amenities: Newport Residences features various lifestyle amenities for residents to use during their time at Newport Residences, such as a gym, BBQ area, and lap pool. Residents can utilize these facilities to socialize and unwind with family and friends.
8. Convenience: Newport Residences' convenient location makes accessing various amenities easier, including supermarkets, shopping malls, restaurants and cafes – everything needed in daily life is easily available here.
9. Outstanding transportation system: Walking from Tanjong Pagar (EW15) takes only six minutes (550 meters, 180 metres), with hub Synergy Point as the closest bus stop along Anson Road within two minutes; Keppel Road can easily be accessed by residents who drive along Marina Coastal Expressway or Central Expressway.
10. Newport Residences is conveniently situated nearby educational schools. Within 1 km, Cantonment Primary School can be found, as well as CHIJ Kellock School and Outram Secondary School.
11. Newport Residences is strategically positioned close to several key transformation plans outlined in the URA Master Plan. These initiatives include developing and renovating SGH Campus as well as the Greater Southern Waterfront.
Benefits of Living in Newport Residences
1. Nonpareil Convenience
Newport Residences can be found in Singapore's sought-after District 2, an exciting neighborhood in its CBD (Central Business District) that is both vibrant and diverse.
Tanjong Pagar offers a diverse array of shops, offices and residential properties. It reflects Singapore's evolution from an idyllic fishing village into a bustling metropolis and boasts some stunning condominiums with contemporary yet classy designs in its CBD area.
Newport Residences residents benefit from an easy connection to Singapore's established transport system, making travel throughout Singapore hassle-free. Newport Residences is only 550 m from Tanjong Pagar MRT Station (EW15), making travel just 6 minutes by walking along Tanjong Pagar Road or Tras Street; other MRT stations in close proximity include Shenton Way (TE19), Telok Ayer (DT18), Raffles Place (EW14/NS26), Outram Park (EW16/NE3/TE17); while Prince Edward (CC32) MRT station will open soon thereafter in 2026.
Tanjong Pagar is easily accessible from other estates of Singapore via major roads. Newport Residences can be found conveniently close to Anson Road and Keppel Road for convenient living.
Residents of Newport Residences can travel easily to Tanjong Pagar by public bus, with stops nearby including Hub Synergy Point on Anson Road; M Hotel on Palmer Road; Opposite Southpoint at Hoe Chiang Road and The Amara before Cantonment Road among many others.
Newport Residences are an ideal place for parents to send their children off to school, with Cantonment Primary School (CHIJ Kellock School), Outram Secondary School (Outram Secondary School), Tots and Teddies, Superland, GNS School of Business and Technology and Cambridge Business School all nearby.
Tanjong Pagar is known for its lush greenery and many leisure facilities available within walking distance, offering residents the perfect place to unwind and unwind in a stunning environment. Newport Residences are just 900 metres from Telok Ayer Park; Tras Link Park can also be found nearby, as can Duxton Plain Park Ann Siang Hill Park, Spottiswoode Park, Tras Link Park; Gardens by the Bay is within 6 minutes driving distance – one of Singapore's biggest parks!
Newport Residences offer their residents an abundance of dining options, making the Newport Residences an excellent place for expats due to the wide selection of international and local cuisine. Lucha Loco provides residents with an unforgettable dining experience; OSO Ristorante, Humpback, The Lokal, Shake Shack Potato Head, Wildfire Burgers, Indo-Chinese Restaurant, Noti Restaurant & Bar are other notable restaurants within walking distance from their apartments.
Newport Residences residents can select from an abundance of shopping malls to satisfy their essential and daily needs, from clothing and sports equipment to groceries. Tanjong Pagar boasts many such stores; nearby malls include 100 AM, Tanjong Pagar Plaza, Guoco Tower, International Plaza, Icon Village, QUE Downtown 2, VivoCity, Raffles City Singapore, Marina Bay Sands are some of the options they can choose from.
Newport Residences' residents can also take advantage of nearby medical facilities. Tanjong Pagar Medical Clinic can be reached in just a minute on foot while Duxton Medical Clinic is an 8-minute stroll via Yan Kit Road. Other nearby facilities include DA Clinic on Anson Road; Singapore General Hospital; Shenton Family Medical Clinic and Everton Clinic.
2. Connectivity at Newport Residences
Newport Residences is conveniently situated within Singapore's central business district, making it accessible via various modes of transport. Take a look at how this new development connects with surrounding transportation infrastructure.
MRT: Tanjong Pagar station on the East-West Line is within 7 minutes walking distance, making it convenient for commuters who use this form of public transit. Prince Edward station will become closer as Circle Line 6 becomes fully functional in 2026; Prince Edward itself will only be 350 metres from this development.
Bus: Newport Residences is conveniently situated close to various bus stops. Many bus routes run through this area, with residents being able to reach Hub Synergy Point on Anson Road within 180m or two minutes – perfect if you are commuting between different parts of the island.
Taxi: Singapore's taxis are easily available and can be called from both the street or through ride-hailing apps. Taxi drivers in this area are familiar with landmarks like Fuji Xerox Towers as a familiar landmark to hail for service.
Cycling: Newport Residences features multiple bike parking areas for those who enjoy cycling. It is connected to an extensive cycling network in Singapore that makes travelling by bicycle easy across Singapore.
Car: Major roads near Tanjong Pagar offer drivers easy access to other estates in Singapore. Newport Residences is conveniently situated close to Keppel Road and Anson Road – Keppel Road can easily be accessed from either Marina Coastal Expressway or Central Expressway by motorists.
Newport Residences can be reached using various modes of transport – whether driving yourself, taking the MRT/bus/cycle/taxi.
3. Schools near Newport Residences
Newport Residences is situated in an area which provides numerous educational opportunities for all age groups. Here is a list of schools near Newport Residences.
Cantonment Primary school – This elementary school boasts a curriculum focused on citizenship and character education, along with numerous enrichment programs as well as community service projects for its students.
Outram Secondary school – Outram Secondary school boasts a distinguished history of offering quality instruction to students from varied backgrounds. Their motto, Integrity. Service. Excellence, is something they strive to instil within each of their pupils.
Singapore Management University (SMU), situated in the heart of Singapore's urban landscape, is widely recognized for its innovative and interactive teaching methods. Offering both undergraduate and postgraduate programs in business and law disciplines.
SDH Institute (The School for Hospitality & Tourism Management), is a private institute specializing in hospitality and tourism management education programs for both local and international hospitality industries.
PSB Academy (Private School of Business) – As a private institute for education, PSB Academy offers programs from foundation courses up to postgraduate degrees that have been tailored specifically for industry relevance, giving its students practical skills they can put to use right away in the workplace.
Nanyang Academy of Fine Arts – NAFA is Singapore's largest and oldest arts institution, offering diplomas, degrees, and postgraduate courses across a variety of art disciplines including music theatre and dance.
International School Singapore (ISS). International School Singapore is a private, international school which provides an internationally acclaimed education for children from diverse backgrounds. Their curriculum follows the International Baccalaureate program which emphasizes inquiry-based education and global citizenship.
Here are a few schools near Newport Residences offering educational opportunities. There are schools with both specialized programs and traditional academic curriculum.
4. Shopping Malls near Newport Residences
Newport Residences are situated close to numerous shopping malls. If this interests you, feel free to explore them:
Tanjong Pagar Centre is a mixed use development located in Singapore's Tanjong Pagar district. The complex includes a 64-storey residential tower known as Wallich Residence as well as Guoco Tower – a Grade A office tower of 38 floors – as well as retail podium and hotel facilities featuring variety of shops as well as grocery store, dining options, etc. Tanjong Pagar Centre's rooftop park provides panoramic views of Singapore from above.
100 AM Lifestyle Mall offers an eclectic mix of dining, retail and entertainment experiences. This mall includes NTUC Fairprice supermarkets and Don Don Donki as well as beauty, fashion and technology shops; cafes, restaurants and other stores also reside here.
Icon Village – Just minutes from Newport Residences is Icon Village, an inviting shopping destination featuring numerous F&B outlets and specialty stores as well as service providers – from French Bakeries and Craft Beer Bars to Specialty Pet Stores and service providers.
Marina Bay Sands, one of Singapore's world-famous resorts, can be found at its core in downtown Singapore. Known for its world-class architecture and spectacular architectural details such as three iconic towers linked by a vast rooftop terrace – Marina Bay Sands stands as an international resort destination in its entirety. The resort offers an impressive range of amenities, such as 2,500 hotel rooms and suites, an immense convention center, restaurants, bars and clubs, an ultra-modern casino and shopping mall filled with designer brands. Marina Bay Sands Resort boasts many popular attractions such as the ArtScience Museum and Sands Theatre, plus the Infinity Pool which provides breathtaking views of Singapore's skyline. Any traveller to Singapore should make time to visit Marina Bay Sands.
VivoCity, Singapore's HarbourFront shopping center opened in 2006 with over 1.5 million square foot of retail space, offering services, shops, restaurants, entertainment options as well as its rooftop skypark with skypark joggers, an amphitheater and cinema – as well as being convenient to both HarbourFront MRT Station and Sentosa Island, one of Singapore's top tourist spots – serving as gateways for them both.
Newport Residences is situated near an abundance of shopping options in Singapore's vibrant Central Business District. Here you will find both budget-conscious retailers as well as luxury labels – making for an enjoyable shopping experience no matter your style!
5. Famous Eateries near Newport Residences
Newport Residences is situated in a vibrant neighborhood known for its vibrant culinary scene. There are plenty of restaurants here offering everything from street food to international delicacies – check out these top Tanjong Pagar spots:
Tanjong Pagar Food Centre – Tanjong Pagar Food Centre is an iconic Singapore hawker center, situated within its Central Business District. Offering delicious and reasonably-priced local dishes like chicken rice, laksa, and char kway-teow. Popular among office workers for lunch due to its lively environment.
Maxwell Food Centre offers some of the finest local street food available in Singapore, from well-known dishes like chicken rice and laksa to lesser known ones like oyster omelette and mee goreng. There's something here for every palate.
Amoy Street Food Centre of Tanjong Pagar is a foodie's dream come true! Over 100 stalls sell a variety of local and foreign dishes from Hainanese fried chicken to Korean fried hen; offering delicious meals at reasonable prices; it is an ideal spot for quick meals or casual gatherings with friends.
Burnt Ends – For something upscale, Burnt Ends should be on your list. This Michelin-star modern Australian barbecue restaurant specializes in serving dishes such as smoked quail, beef brisket and grilled quail.
If you love Korean cuisine, The Korean Stall will become one of your go-to places. Offering traditional favorites such as bibimbap and spicy tofu as well as traditional Korean fried poultry dishes.
Omotesando – Omotesando is a Japanese coffee shop popular with coffee enthusiasts. Offering both classic espresso drinks as well as specialty items such as matcha lattes or strawberry milk shakes.
Keisuke Tonkotsu King – If you are craving comforting yet satisfying ramen, look no further. They offer various toppings including char siu or ajitama eggs.
Picanhas – Picanhas' Brazilian Churrascaria offers a delicious array of meats including beef, chicken and pork as well as sides such as garlic rice and grilled veggies for patrons who appreciate delicious meals.
Maguro-Donya Miura-Misaki-Kou Sushi & Dining offers top-of-the-line sushi at Maguro-Donya Miura-Misaki-Kou Sushi & Dining, known for their signature maguro rolls as well as delicious and fresh nigiri (sashimi) options and fresh-tasting sushi dishes.
Newport Residences offer an exciting and varied food scene worth discovering. There are countless restaurants nearby offering local street food or more sophisticated dining experiences.
6. Recreational Facilities near Newport Residences
Newport Residences are conveniently situated close to multiple nature parks. Some nearby examples are:
Telok Blangah Hill Park boasts magnificent panoramic views of Singapore's skyline, making it a top destination for nature enthusiasts. Among other features, this park features hiking trails, canopy walkway, terraced garden, Henderson Waves Bridge with breathtaking city and park views and Henderson Waves Bridge as pedestrian bridge.
Mount Faber Park, another well-loved park near Newport Residences, can be found nearby. Set atop a hill, it offers panoramic views of the city below as well as hiking trails, cable car, treetop walk and Faber Point; an overlook that gives visitors a 360 degree panorama.
Gardens by the Bay offers stunning panoramic views of Singapore's skyline and is an acclaimed attraction among both visitors and locals alike. Attractions at Gardens by the Bay include Cloud Forest and Flower Dome as well as one of its unique features – an indoor waterfall which stands tallest indoor waterfall in the world!
Labrador Nature Reserve, popular among nature enthusiasts, features hiking trails, boardwalks and beaches for visitors to enjoy. There is an abundance of plants and animals like mangroves and monkeys at this park as well as special features from World War II such as tunnels, gun emplacements and other relics from World War II that add character.
In conclusion, Newport Residences is surrounded by several nature parks, each with its own features and attractions. Whether you're looking for stunning views, hiking trails, or wildlife, there is something for everyone in these parks.
Book An Appointment to view Newport Residences ShowFlat & get VVIP Discounts (Limited Time), Direct Developer Price, & Hardcopy E-Brochure. Guaranteed with Best Price Possible.
OR
Fill up the form on the right and get a copy of Newport Residences Price, E-Brochure, and Latest Updates!
Strictly no spam policy.